Back to East Africa's contacts with the Classical World
Medieval Authors about East Africa
By Pieter Derideaux
----------------------------------------------------

No books have appeared on this subject for many years. This is strange as a number have appeared concerning West Africa. To fill this void I try making these texts available to everybody.
When using these texts (in e.g. articles or on a website); please mention my name; I worked years on collecting - translating them. No commercial use allowed.

Pieter Derideaux


Contents:

 
 
 
 
Color Code
Muslim World
Chinese Empire
Christian World
India (Muslim+Hindu)
South East Asian States
Neighboring African States
As illustration only are added here some examples of the finest manuscripts from the Swahili. They are not connected with the list of authors on the left side of the page.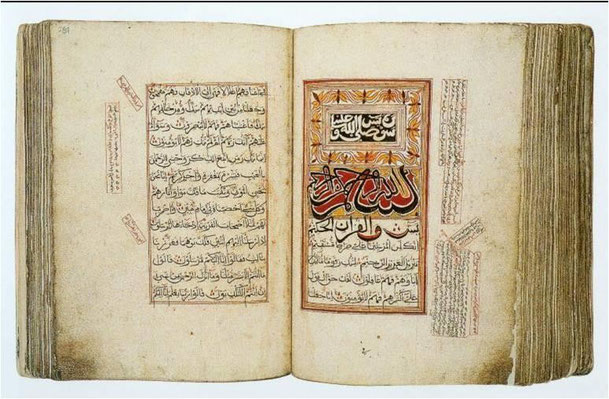 The picture above and under are an illuminated Qur'an in Swahili using the Arabic alfabet with 417 folios in a black leather binding with stamped designs. The text is written in an elegant, cursive script that resembles thuluth, and the formation of certain letters resembles North African maghribi script.
Siyu Island, Lamu archipelago, Kenya 18th or 19th century Italian hand-made paper, pigment and ink
Fowler Museum at UCLA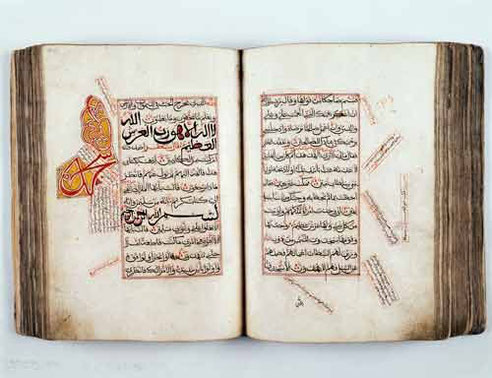 ---
Above and under pages of a Quran (in Arabic) from Mogadishu from the 18th Century.
Copyright 2002-2005 Pieterderideaux

No part or portion of these  pages, text(s), image(s) or code(s) may be copied, reproduced, published or distributed by whatever way in any medium without the expressed written permission of the copyright holder, unless you use the above mentioned matter for personal educational or scientific purposes with no intention of publishing it by whatever way under your or any other name.