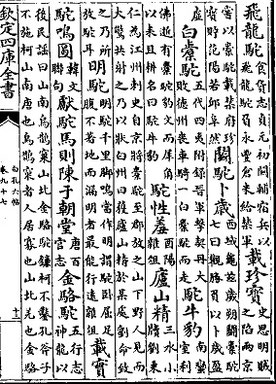 Back to Table of Contents
To next page
Bai Juyi 白居易: Bai-Kong liutie 白孔六帖
(The six tablets of the Masters Bai and Kong) (d846)
------------------------------------------------------------
 Taken from: https://www.kanripo.org/text/KR3k0008/097
He talks about the ox camel牛豹
…. White camel and the camel cow leopard …Srivijaya (Sumatra) has the camel-leopard and the rhino…. The cow camel leopard cannot reproduce itself….
Note: cow camel leopard is the word for giraffe in Persia, which because of allegedly being a crossbreed between different species could not reproduce. And Srivijaya was the main marine trade center in the eastern part of the globe.  
Left: the page concerned from the book.