Chinese ships added as illustration only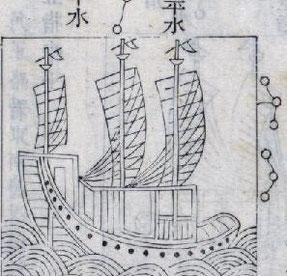 Back to Table of Contents
To next page
Jia Dan Hainei Huayi tu (Map of Chinese &
Barbarian Lands within the four seas) (801)
---------------------------------------------
Taken from: Philip Snow: The Star Raft.
                    Zhang Jun-yan, Relations between China and the Arabs in early times
                   A History of Overseas Chinese in Africa To 1911 by Li Anshan
This information is preserved in the Xin Tang Shu (New History of the Tang)
Famous prime mister and geographer of the Tang Dynasty.
The map is not longer extant. A lot of the information however got used in other maps. A lot of text was written in the margins of the map.
There is a description of

 

the sea route from Canton (Guangzhou) to Baghdad, via Singapore and the Malacca straits, the Nicobar islands
and the Indian Ocean,
Ceylon and India, and finally the Arabian sea and the Euphrates at which point the journey was completed by land.

 
He also wrote about a sailing route which could be taken to the Persian Gulf from a place called Sanlan in the extreme south-west of Arabia,
twenty
days voyage from the nearest settlements to the north.
As he gives 90 days for the journey from Canton to Arabia, this place "Sanlan" must be very remote and on the East African coast. Newer
translations
give Aden as Samran. 
We traveled two hundred miles through Guangzhou Southeast Sea
and arrived at Tun Men Shang. We then sailed westbound… After
travelling westwards for a day, we arrived at the Wuci Kingdom where
the Folici River of the Dashi Kingdom entered the sea... We arrived at
the capitol of the Mao Meng Kingdom, Fuda City. Entering from the
south of Brahman, passing through the Meilai Kingdom to reach the
Wuci Kingdom, we traveled along the east side of the sea. The area up
to the west of the west coast all belonged to the Dashi Kingdom. Its
southwest tip was called the Sanlang Kingdom. Traveling northbound
from the Sanlang Kingdom for twenty days, passing through over ten
small kingdoms, we arrived at the She Kingdom. We then traveled
another ten days, passing through six or seven small kingdoms and
arrived at the Sayiquheje (Sumalier?) Kingdom, which was on the west
side of the sea. Traveling westbound for six or seven more days,
passing through six or seven small kingdoms, we arrived at the Meizhuan
Kingdom. Traveling northwest for ten days, passing through over
ten small kingdoms, we arrived at the Balihemounan Kingdom.
Traveling another day, we arrived back at the Wuci Kingdom and met
the east coast route from which we originated.
Kingdom of Moluo [now Basra]
Kingdom of Tiluoluhe [vicinity of present-day Abadan]
Kingdom of Wula (Wuci) [al-Ubulla, near Basra]
Fulila (Folici) River [Arabic: Furat, now the Euphrates]
Fuda [Baghdad]