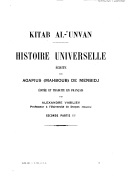 Back to Table of Contents2
To next page
Agapius of Hierapolis: Kitab al-Unwan
(Book of Headings or History) (d941-2)
--------------------------------------------------------
Taken from : AGAPIUS (MAHBOUB) DE MENBIDJ translated by ALEXANDRE VASILIEV
Also called: Mahbub ibn-Quṣṭanṭin
F49r-v
Chapter seas, bays and islands.
... ..this Sea contains a Gulf close to the country of Abyssinia, which extends to the region of the Berbers and is called
the Gulf of the Berbers; its length is 500 miles and the width of its side is 100 miles. The other is the Gulf side of Aylah;
its length is 1,400 miles and its width at the beginning is 700 miles, and its end, that is to say the nearest site called the
Red Sea, is 200 miles. The sea still contains towards Persia the Persian Gulf; has a length of 1,400 miles, its width at the
top is 500 miles and at its end is 150 miles.
F58v 
Chapter of the countries and cities of the earth, called after the Zodiac signs.
...... .The Sign of Cancer: Land of the Berbers (Barbary), Africa, Bithynia, which is in the land of the Greeks, Phrygia, and
Lydia Ladikiyah (?). …..
The sign of Aquarius: Sarmathia, the river Balch, Sogdiana, Ferghanah, as-Schasch, al-Balkah and Azania in the center of Abyssinia.