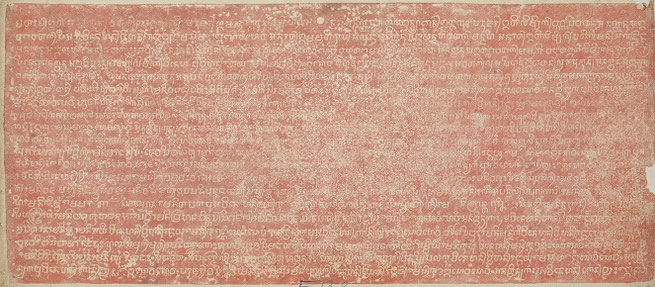 The rubbing of the second plate -front (line 13-14)
Back to Table Contents2
   To next page
Sri Tulodong: Inscription of Lintakan (919AD) on 3 copper plates.
 --------------------------------------------------------------------------------------
Taken from:- Corpus of the Inscriptions of Java (Corpus Inscriptionum Javanicarum), Up to 928 A.D. by Himansu Bhusan Sarkar
                     -The Dacca University Studies, Volumes 1-2
The inscription relates the feast on the establishment of the sima (freehold) and the gifts given to the people concerned; the sima consisting of a number of wet rice fields (that had been previously purchased from their owners) and forests (already the kings property) at Lintakan and Tunah to become a domain (sima) for the monks in charge of the cult of his illustrious father.
We are concerned with the second copper plate. A list of names of people who receive gifts. The important people receive big gifts, the simple people small gifts. In the lowest category is a man called Janggi. Because of the low social class to which he belongs he might well have been a former slave. He is not a slave anymore as further in the charter is mentioned:  The slaves received (their reward) according to (their) ability (lit., physique).
Further, the astrologer (wariga) : father of Kesil ; the irrigation- inspector (huler) : Si Jawa, father of Bari; the six (?) tuha wereh-s : Si Gomanta the father of Pahehan, Si Wahn the father of Waluh, Si Janggi, Si Regik the father of Buddhi; the marhyang of Dihyang Sang Bilut, father of Vajang, the marhyang of Jamvu Si Candra, father of Vadi, the marhyang of Samadi Punta Unes, the marhyang of Putar(?) Si Vavuat, father of Mancing, the tanjen of Kalang Si Tguh, father of Ndikan, the rano of Apantil Si Pulakas, father of Baddha; the rama matuha Si mahi, father of Limvang; the rama marata  Sang Kalyana, father of Tapa: all (of them) received gold 2 kupang (two times 0.6gr), each in particular.